The Silver Linings Playbook: Mental Health and High-School Books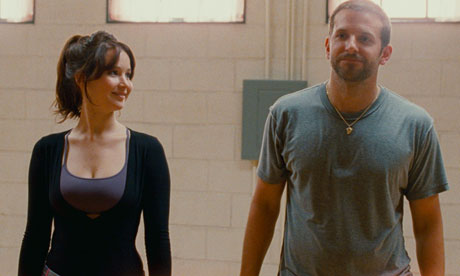 Jennifer Lawrence and Bradley Cooper in Silver Linings Playbook, a wonderful story of overcoming mental health issues. Image from guardian.co.uk
In a recent radio interview, I heard Bradley Cooper being interviewed about playing the protagonist Pat in the film version of The Silver Linings Playbook (a novel written by Matthew Quick)
. After hearing the plot, I immediately wanted to read the book. And watch the film, of course, as Mr Cooper is in it. Here's the storyline, courtesy of Goodreads:
Meet Pat Peoples. Pat has a theory: his life is a movie produced by God. And his God-given mission is to become physically fit and emotionally literate, whereupon God will ensure him a happy ending—the return of his estranged wife, Nikki. (It might not come as a surprise to learn that Pat has spent several years in a mental health facility.) The problem is, Pat's now home, and everything feels off. No one will talk to him about Nikki; his beloved Philadelphia Eagles keep losing; he's being pursued by the deeply odd Tiffany; his new therapist seems to recommend adultery as a form of therapy. Plus, he's being haunted by Kenny G.
Yes, it really is a light-hearted, easy-to-read novel. But I've been wanting to read something like this – a short novel that can be read in a day or so – for too long now. Because of uni, I've been surrounded by Renaissance literature that doesn't exactly provide me with relaxing time off. Yes, the text that I study are wonderfully written, but they're a bit… intense.
Pat is someone that I can relate to, chuckle at, and shout at from the comfort of my sofa. He's so blinded by his love for his ex-wife, and you really want to see him find the "closure" that is so often encouraged to him by the other characters. In order to try and win Nikki, his ex-wife, back, Pat yearns to better himself. For years I have been overwhelmed by desire for self-improvement too, and so I can relate entirely. If you read this post of mine, you'll see that Tolstoy would have related to him too (ah, such a tenuous link for a Saturday morning). One of Pat's main modes of improvement is exercise, and he obsessively covers a daily routine of weights, stretching, and jogging. When jogging, he is accompanied more and more by Tiffany, a character who, like Pat, is also in therapy for various reasons. Tiffany, to be honest, is a bit nuts, but she's a vibrant, forward woman. She did annoy me slightly, mostly for her stalking tendencies towards Pat, but she's clearly good-hearted, and she and Pat become even closer when entering a dance competition.
Then there's Pat's brother, Jake, who – as you may expect with this type of plot – is perfect. He's a successful stockbroker, he has a posh apartment, and he's married a concert pianist with whom he's had a beautiful daughter. His situation is all quite envy-inducing, but it also makes you pity Pat, who may well have been in his situation were it not for his time in a psychiatric ward. Additionally, whilst receiving medical care he lost all sense of time, as well as many of his memories. However, Jake and Pat still share one hobby: American football. I can't say that I know anything about the sport, or care much about it, but the amount it was mentioned somehow didn't bore me in the slightest.
A hobby of Pat's that did interest me more, unsurprisingly, was reading. Although he reads to try and win Nikki back, who works as an English teacher, Pat does become influenced and inspired by the books that he reads. These include Ernest Hemingway's A Farewell to Arms, Plath's The Bell Jar, and Salinger's The Catcher in the Rye. We see Pat ranting about how depressing they are, and how it is cruel of Nikki to teach them to maleable adolescents. However, he eventually receives the following advice, which I found as lovely as it was clichéd, which helps him view the novels in a different light:
"Life is not a PG feel-good movie. Real life often ends badly […] and literature tries to document this reality, while showing us it is still possible for people to endure nobly."
To Pat, literature allows him to consider his own mental health and past in a cathartic manner. It helps him to realise that he is not alone with his issues, but also that he doesn't have to agree with the novels that he reads. Reading allows him to think more for himself, and partly provides the circumstances that enable him to reconsider how he is living.
There are a few parts of The Silver Linings Playbook that aren't incredibly well written, particularly around the halfway mark. There are some dancing-related moments that seem very cheesy, but as Quick was writing from the perspective of Pat, perhaps that was intentional. However, there were other passages that I really admired, smiled at, and wanted to share with others. I'd recommend that you read this if you enjoyed The Perks of Being a Wallflower, but I wouldn't say that this is a young-adult book. It's merely a light-hearted novel with some more serious themes considered.
---
Retreat Into The Sanctuary & Enjoy Seven Days to Reset
Love books, feeling a little lost right now, and looking for some comfort and guidance forwards? I made The Sanctuary exactly for this.