Edward Thomas: A Poet Who Spoke of England, Depression and Not Belonging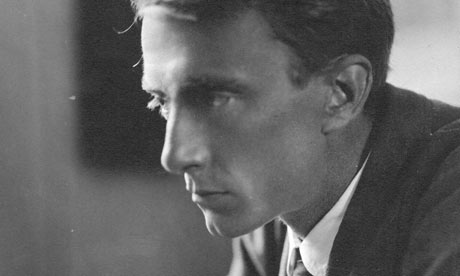 The solemn expression of Edward Thomas
Photograph: Hulton Archive/Getty
Born in 1878, Edward Thomas, the Anglo-Welsh poet and essayist, only turned
to writing poetry
in 1914, three years before his death in 1917.
Edward Thomas and Robert Frost: a great poetic friendship
His turn to poetry was largely the result of encouragement from Robert Frost, a fellow poet he met in 1913 and grew increasingly closer to in the next two years. Before meeting Frost, Thomas's life was drifting. He was a thirty-four-year-old father of three, stuck in an unsatisfying marriage, and battling intense feelings of depression. He was recognised as a great writer, having produced twenty books of biography and criticism and more than 1,500 book reviews, but he felt uncomfortable criticising the work of others, and wanted to move his work in a new direction.
Robert Frost provided the encouragement and literary support this transition to poetry required. Edward Thomas, the writer who once declared he "couldn't write a poem to save [his] life", was effectively saved by poetry. Thomas wrote extensively during his period of friendship with Frost, but change was looming.
Thomas was stuck at a crossroads and unsure which way to turn, and this was only made worse by his frequent deliberation and distaste for decision-making (some criticism suggests that Frost's "The Road Not Taken" was directed at Thomas). One option was for Thomas to go to America with Frost, where his son had already moved, and spend a life living, writing, and farming together. The other option – war – seemed such an unlikely decision for Thomas to make: he was anti-nationalist, despised jingoism, and refused to grow "hot" with patriotic love for Englishmen.
But Thomas's friendship with Frost faltered at the final moment, and Thomas enlisted in a war he had never truly believed in. Soon after arriving in France, Thomas was killed in the Battle of Arras on Easter Monday 1917. It was not direct battle that killed him, but rather the concussive blast wave of one of the last shells fired as he stood to light his pipe. Thomas died a man struggling with long-term depression, literary expression, and his closest relationships. Little did he expect that he would grow to become an iconic English poet.
Edward Thomas: nationality and the English countryside
Thomas's poetry so beautifully encapsulates what England means to him, but also questions deeper concerns of belonging and nationality. Thomas felt torn between London, where his work and writing circles were based, and the English countryside that he commemorates in his writing. Yet Thomas's Welsh heritage led him to doubt whether he could truly be "English". He felt that living in England
was "like a homesickness, but stronger", and the closest he could feel to belonging was by spending time in nature: "I was home: one nationality/ We had, I and the birds that sang,/ One memory" (Home [3] 4-6).
It is the birds and trees that "welcomed [the speaker]" after he had "come back […] from somewhere far" (7-8), perhaps when others didn't. "Nationality" in this poem is also a fluid and evolving concept, rather than fixed. The migratory thrushes that the speaker relates to ("they knew no more than I/ The day was done" ([17-18]) would have recently returned from Southern Europe, the month being April. This figurative framework of national identity does not allow for displacement; a "single nationality" is constantly shared and members are always "welcomed" back.
I've never found a poet that has better expressed my views of the English countryside, nor one that can depict the complex feelings and emotions I've felt in the past. "Rain" is perhaps the poem by Thomas that resonates most with me, and for that reason I'd like to share it with others:
Rain by Edward Thomas
Rain, midnight rain, nothing but the wild rain
On this bleak hut, and solitude, and me
Remembering again that I shall die
And neither hear the rain nor give it thanks
For washing me cleaner than I have been
Since I was born into this solitude.
Blessed are the dead that the rain rains upon:
But here I pray that none whom once I loved
Is dying to-night or lying still awake
Solitary, listening to the rain,
Either in pain or thus in sympathy
Helpless among the living and the dead,
Like a cold water among broken reeds,
Myriads of broken reeds all still and stiff,
Like me who have no love which this wild rain
Has not dissolved except the love of death,
If love it be towards what is perfect and
Cannot, the tempest tells me, disappoint.
Ted Hughes acknowledged Edward Thomas as "the father of us all." Hughes couldn't have been more accurate: Thomas is a poet we could all do well to read, relate to, and learn from.
Relevant Texts:
---
Retreat Into The Sanctuary & Enjoy Seven Days to Reset
Love books, feeling a little lost right now, and looking for some comfort and guidance forwards? I made The Sanctuary exactly for this.