8 Authors I Wish Would Write More
We all have a few writers who we simply wish would write more. You know, the authors that we keep tabs on for years on end, waiting for news that they've written another book. Sometimes they do, and sometimes they just keep us waiting. While there's not much that we as readers can do to speed up their writing, a little praise of their existing books (or book, singular) and a wish for more can't be a bad thing.
1. Tan Twan Eng

Tan Twan Eng is a novelist I first heard about after the Booker Prize shortlist for 2012 came out. I decided The Garden of Evening Mists sounded like a novel I'd really enjoy, and it was.
It took me a while to get round to reading Tan Twan Eng's earlier book, The Gift of Rain, but I probably enjoyed it even more.
I adore the simplicity, minimalism, and Buddhist undertones of the author's writing, and reading these books helped me to relax a bit more in my own life. There's something I really love about plots with secluded islands and characters that spend a lot of time meditating – perhaps it's a subtle clue about things that need changing in my own life?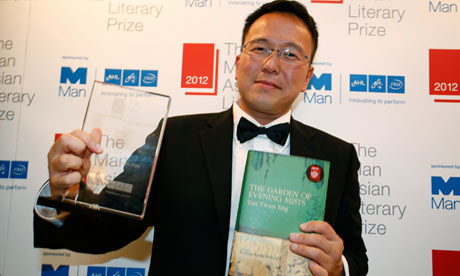 Tan Twan Eng, winner of the Man Asian Prize 2012 and shortlisted for the Booker. Image from The Guardian.
2. Sarah Winman
When God Was a Rabbit must be one of my favourite debut novels. I found it so funny, uplifting and familiar to my own life and childhood, and I'd love it so much if Sarah Winman wrote another book. She's a really talented novelist, and I'm sure my boyfriend would agree: he laughed almost all the way through When God Was a Rabbit.


3. Jonas Jonasson
Even if you only skim through my posts here on the blog, you'll almost certainly know how much I loved The Hundred-Year-Old Man Who Climbed Out the Window and Disappeared. This is the book that my Dad kept complaining about because "he couldn't put the bloody thing down", and the novel that my boyfriend spoke about for weeks. During my time working in a book shop I found it to be the perfect book to recommend to all types of customers, and I never had any complaints.
Jonas Jonasson, author of The Hundred-Year-Old Man Who Climbed out the Window and Disappeared. Image from The Telegraph.
4. Matthew Quick
The author of The Silver Linings Playbook, a successful novel-turned-film, is bound to create some more great plots, I think. His most famous novel was so easy to read and its characters so loveable, and I'm really excited to see if he'll write anything similar in the future.
5. Kathryn Stockett
I think the same about Kathryn Stockett, author of The Help. The characters she created in this book were so vibrant and memorable, and it will be interesting to see if she'll write a novel that focuses on another polemical theme (as she did with slavery in The Help).
The film adaptation of The Help, based on the novel by Kathryn Stockett. Image from colorlines.com.
6. J.K. Rowling
I know J.K. Rowling has written the entire Harry Potter series and two novels, but I'd really love more books like The Cuckoo's Calling. Rumour has it that Rowling is already working on the sequel, and I hope it branches out to a Cormoran Strike series. Three books would be the perfect amount, I think.
7. Stephen Chbosky
It's amazing that Stephen Chbosky has only written The Perks of Being a Wallflower, particularly considering how successful it has become. Google suggests that Chbosky may be working on another novel, so hopefully more information will come out about this soon!
Charlie in the film adaptation of Stephen Chbosky's The Perks of Being a Wallflower. Image from popbopshop.
8. Rebecca Skloot
The Immortal Life of Henrietta Lacks was a superb biography about an incredible woman who has affected us all in some way, and I'm so glad that Skloot was the one to write it. Could she write an equally wonderful biography about someone else? May she one day turn to fiction?
Are there any writers that you wish would write more? Have you heard anything that I haven't about the authors I've mentioned above? I look forward to hearing from you!